LessWrong Community Weekend 2023 [Applications now closed]
Update: [Applications now closed]
---
Meta: This event isn't explicitly focused on EA content but there's a lot of cross-over and I expect there to be plenty of EA-themed & EA-adjacent sessions organised this year. Personally, attending LessWrong Community Weekend 2018 was how I made my first real-life EA friends, found a sense of community, started taking EA ideas seriously and then eventually shifted my career to focus far more on impact. But please don't come because you want EA career advice—come for the fun, community and making new friends!
September 22-25th is the 10th annual LessWrong Community Weekend (LWCW). This is Europe's largest rationalist social gathering which brings together 150 aspiring rationalists from across Europe and beyond for four days of socialising, fun and intellectual exploration.
The majority of the content will be unconference style and participant driven. On Friday afternoon we put up six wall-sized daily planners and by Saturday morning the attendees fill them up with 100+ workshops, talks and activities of their own devising.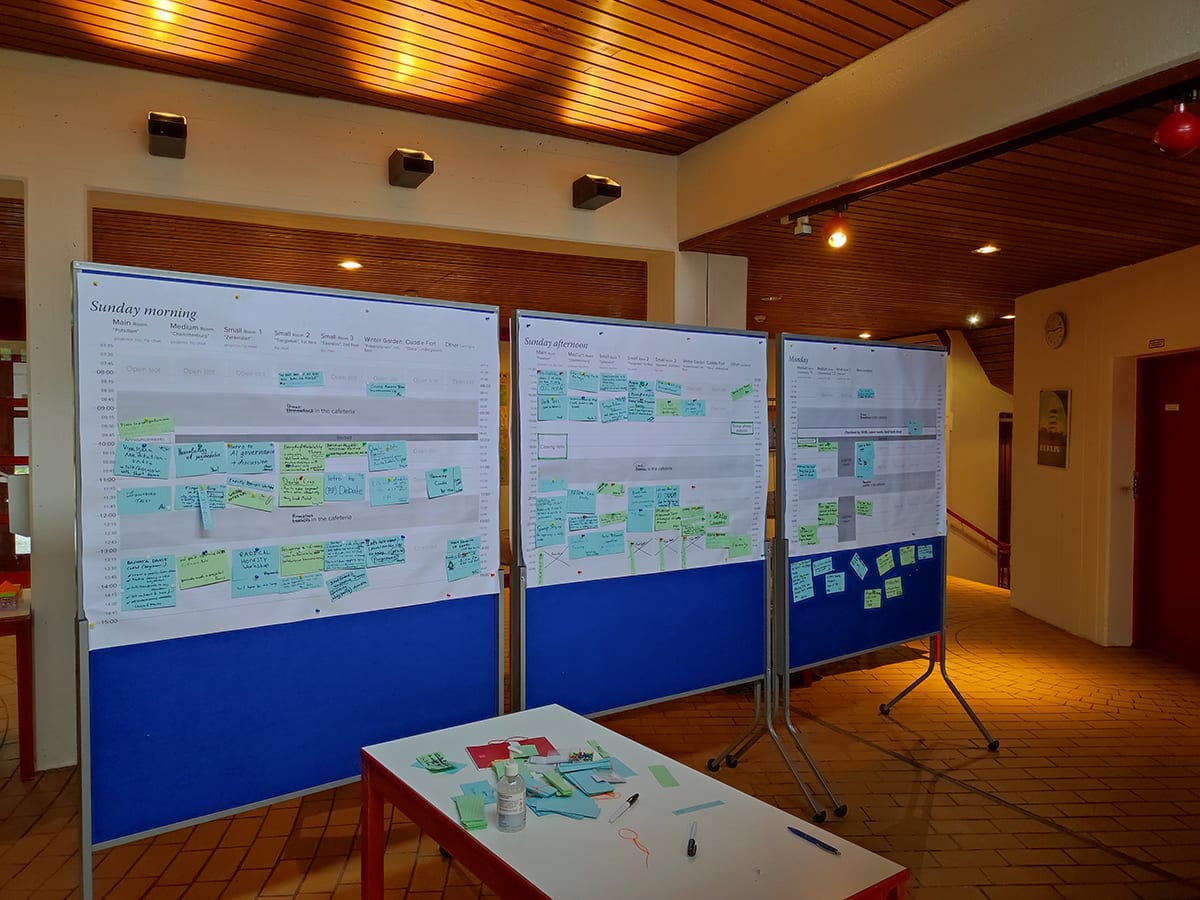 Previous years' schedules have included…
Double Cruxing

Hamming Circles

Gendlin Focusing

Applied Rationality workshops by CFAR instructors and instructors-in-training

Circling

Authentic Relating games

Improv theatre

Introduction to stand up comedy

Writing rationalist fiction

Dance workshops

Acapella singing

Icebreaker games

Lightning talks

Celebrating failure groups

Giant outdoor chess Penultima

Dungeons & Dragons

Kung Fu basics

Board games

Breathwork workshops

Ecstatic dancing

Radical Honesty workshops

Playfighting for adults

Polyamory and relationships workshops

Sex Q&A roundtable

Quantified self workshops

Moral philosophy debates

AI safety Q&A

How to handle fear of AI Doom

Value drift in EA

The neurobiology of psychedelics

The science of longevity

Morning runs and yoga

Meditation in the rooftop winter garden

Night time swimming

Ted Chiang and Greg Egan bedtime story readings
If things like ecstatic dancing, radical honesty and polyamory workshops sound too intense for you, rest assured everything is optional. (I'm British and very awkward so a lot of this stuff terrifies me.)
The event takes place in the natural environs of Lake Wannsee on the outskirts of Berlin. So you can spend some time recharging in between making new friends by hiking in the forests, sunbathing or swimming in the lake.
For those who want to extend their stay in Berlin, there will very likely be meetups arranged in the days before and after the event too.
LWCW is LGBTQIA+ friendly, people are welcome to bring their children (potentially there will be a professional childminder provided throughout) and this year we're putting extra effort into creating an event where people of all ages, genders, backgrounds and adjacent interests (EA, circling, philosophy, meditation…) feel at home.
This event has a special place in my heart and I truly think there's nothing else quite like it. It's where I've made friends who have more in common with me than I knew was possible and it's where I've been introduced to ideas that have altered the course of my life – which is something I never truly got from the online version of LessWrong.
Essential Information
When: Friday 22nd September—Monday 25th September 2023
Where: jh-wannsee.de (Berlin)
Prices: Nobody makes any money from this event and the organiser team are unpaid. All your money goes into paying for the venue, food, equipment and other expenses.
Regular ticket: €200

Supporter ticket: €250/​300/​400
If you want to attend but the ticket or travel cost is the only thing holding you back send us a message briefly explaining your situation. We have a small fund set aside for people who require financial aid.
Apply here: [Applications now closed]
Contact: If you have any questions post them in the comments section here or email lwcw.europe[at]gmail.com
Schedule
Friday lunch: Meet in central Berlin at lunchtime for covid tests and vegan food followed by a short bus journey to JH Wannsee (all included in the ticket price). You can also join us directly at the hostel if you prefer.
Friday to Sunday: A packed schedule to choose from, early morning to late at night every day. The closing ceremony is on Sunday afternoon, followed by more activities late into the night.
Monday: Checkout on Monday is 10am but you can store your luggage on site, join for lunch at the hostel and there will be people hanging around until early afternoon. S Nikolassee train station is a 8mins walk from the venue. Long distance train stations or the airport are another 30-90mins away via public transport.
The days before and after the event: If you want to extend your visit and experience more of Berlin there will very likely be meetups arranged on the days before (and possibly after) the event. Previously there's been: open invite rationality dojos, bouldering, visiting tourist attractions, night clubs and picnics in the park. It's likely EAGxBerlin will be held just a few weeks before LWCW so we're expecting there to be a lot of awesome people in Berlin prior to LWCW beginning.
Food, Sleeping, Covid
Ample quantities of vegan food are provided 3 times per day in the JH Wannsee canteen.
An impressive collection of snacks are available as many times a day as you want at the legendary snack table.
Bedrooms look something like this and there's a process for matching up room mates based on sleep cycle, light/​heavy sleepers and preferred gender.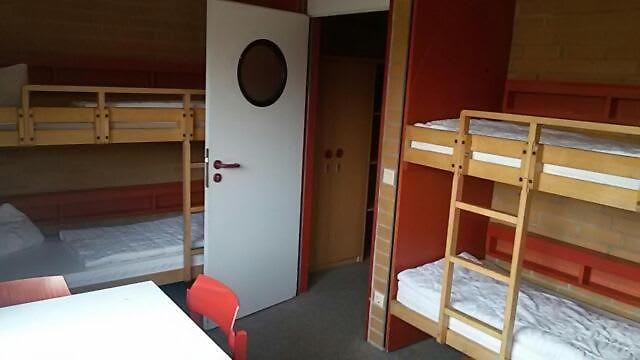 Last year's Covid policy was a resounding success with – as far as we know – zero community transmissions.
In order to attend you will need to take a rapid antigen test, that we provide, immediately on arrival. We will also provide tests which you're encouraged to use each morning before you leave your bedroom.
Keynote Speaker
We are thrilled to confirm Malcolm Ocean as this year's keynote speaker. Known for creating the acclaimed Complice productivity app and goal-crafting intensives, Malcolm has also been writing thoughtful essays for over a decade on topics ranging from trust-building to habit formation and mindfulness. Check out some of his writing here and his interviews here.
Application Process
This year the application process is being divided into 3 batches or phases – so that people can get quicker replies, lock in the date and buy flights earlier.

Here's how it works…
May 1st: Applications open
May 15th: Deadline for Phase 1 applications
May 31st: Replies sent out to all Phase 1 applicants
June 12th: Deadline for Phase 2 applications
June 21st: Replies sent out to all Phase 2 applicants
June 22nd: Any remaining tickets are allocated over the following months
Application form: [Applications now closed]
Application FAQ
I want to come but I'm worried about filling in the application form. Will I get rejected if I say the wrong things?
We gently encourage you not to worry and to send in an application anyway.
We're not looking for highly-polished, deeply-considered responses to every question. Just tell us honestly why you're excited about coming, who you are, how you feel about this whole rationality thing and what you might be excited to contribute.
We don't know how many applications we will get this year but last year the acceptance rate was pretty high (>75%) so your chances are good!
Does the activity or workshop I run need to be very high quality?
You don't need to run an activity at all, unless you want to. Many participants do, so there's no necessity for every person to run something.
It's true that we are looking for participants who are excited to contribute but there's plenty of other ways to do that too: helping someone else research and prepare a workshop, being an onsite helper who refills the snack table, volunteering for the emotional support team, giving a 5 minute lightning talk or just being an awesome and friendly human being to hang out with.
And if you do organise an activity – make it something you're really passionate and curious about, and put in as much effort as you're excited to. This isn't a paid gig and we get that you have other things competing for your time and energy. Nobody is going to judge you harshly if it's not perfect. In fact jumping in enthusiastically anyway is very much in the spirit of the event!
Can I bring my children?
Yes! Children up to 2 years old can come for free. The hostel can provide a crib. Up to 6 years old are half price. Let us know on the application form if you're interested in childcare – and if there's sufficient demand we will organise that for you.
We usually have a couple of older (8-14 year old) kids attend with their parent(s), but this year we want to be extra inclusive of families so hope there will be more!
What are Angel (on site helper/​volunteer) tickets?
We thank participants who are willing to commit significant time on-location helping the day-to-day running of the event with the option of a discounted ticket. As an Angel you should be able to attend all activities you want, but would commit to helping out when you can. Possible jobs include helping with build-up or teardown, staffing the welcome desk, refilling snack tables or cleaning and packing up on Monday. If you're interested in helping out, just indicate that on the signup form and someone will get in touch.
I don't feel like part of the Rationality/​LessWrong community. I've never been to an event or meetup like this before. Should I still apply?
Yes! LWCW is very newcomer friendly and you won't be the only first-timer.
In fact, attending LWCW 2018 is how I made my first IRL friends in the Rationality and Effective Altruism communities!
This year we're actively trying to diversify the attendee list so if you're interested in Rationality but you identify more with an adjacent community (Circling, Transhumanism, Effective Altruism, Astral Codex Ten…) we would especially love for you to apply!
If you feel you don't fit the typical model of a LWCW attendee (whatever that is) in terms of age, gender, sexuality, race, economic or educational background – we really want to encourage you to apply! We aim to make this year's LWCW even more diverse and inclusive because we believe the whole community will benefit from that.
What matters is that you feel a connection to our shared values: understanding the world, developing methods to achieve our goals (and, consequently, those of humanity at large) and creating meaningful friendships that support and inspire us on that mission.
Help Us Spread The Word
LWCW is volunteer organised with no marketing budget so we rely on word of mouth to get the message out.
If you're able to, please consider sharing this page on social media or sending the link to a friend who might enjoy attending.
Feedback from attendees along the lines of "consistently my favourite weekend of the entire year!!" is not uncommon so you could be doing somebody a big favour.
We can't wait to see you there!